SAMBHAVI SUDHAKAR (DCU) provides an overview of Business in the Community Ireland's (BITCI) revised Low Carbon Pledge launched in March 2021 
RINNO recently attended the launch of Business in the Community Ireland's (BITCI) revised Low Carbon Pledge. This revised Low Carbon Pledge updates and expands commitments laid out in previous versions of the Pledge. It calls on businesses to set science-based carbon emission reduction targets no later than 2024. At the launch, over 60 Irish companies signed up to the pledge but what does it really entail?
What has changed in the revised Low Carbon Pledge?
Initially established in 2018, the BITCI Low Carbon Pledge primarily required signatories to commit to measure and report on Scope 1 and Scope 2 emissions with a collective target set of reducing emissions intensity by 50% by 2030. This was expanded in 2019 to include measuring and reporting on selected Scope 3 elements e.g. waste, water, and business travel.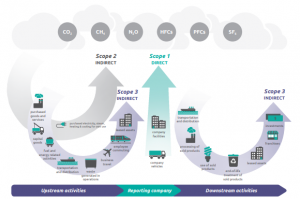 Overview of Scopes 1, 2 and 3
(© GHG Protocol)
The revised Low Carbon Pledge requires signatory companies to:
Record their entire Carbon Footprint, both direct (Scope 1 & 2) and indirect (Scope 3) emissions;
Reduce emissions that they are directly responsible for (Scope 1 & 2), as well as play their part in reducing emissions across their Supply Chain (Scope 3);
Report individually through an Annual Report or Website or other publicly available equivalent source and collectively through an Annual BITCI Low Carbon Report.
More specifically, the revised pledge recognises that our understanding of climate change and the requirements to meet targets is evolving. As such, signatory companies asked to commit to regularly reviewing their carbon reduction targets to align to the latest climate science. To be clear, science, in this context, says it is necessary to limit global warming to 1.5°c.
This is not wholly surprising. The EU 2030 Climate and Energy Framework sets targets for cutting greenhouse gas emissions, increasing the share of renewable energy, and improving energy efficiency. It has recently reviewed the target to be reached by 2030 to a binding 32.5% EU level and to be climate-neutral by 2050. That means net-zero greenhouse gas emissions within the next 30 years. This ambition is reflected in the recent Irish Climate Bill with aggressive targets to meet the EU-wide 2050 targets, and a 51% reduction in emissions by the end of this decade.
Who signed up to the BITCI Low Carbon Pledge?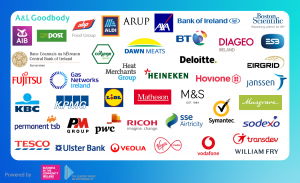 Low Carbon Pledge Signees (© BITCI)
At the launch on 24 March, there were over 60 signatories from a range of sectors including:
Food and Drink – ABP Foods, Britvic, Compass Group, Dawn Meats, Diageo, Irish Distillers, Heineken Ireland, Keelings, Lidl, Ornua
Financial Services – AIB, Allianz, Aviva, Bank of Ireland, KBC Bank, Permanent TSB, Ulster Bank
Professional Services – A&L Goodbody, Accenture, Deloitte, Grant Thornton, KPMG, Momentum Support, PwC, William Fry
Pharmaceutical and Medical Technologies – Abbvie, Cook Medical, DePuy Synthes, Hovione Ireland, Janssen, Johnson & Johnson Vision Care
Retail – ALDI, Boots, Tesco, M&S, Musgrave
TMT – BT Ireland, Cisco, Fujtisu, RTE, Sky, Three Ireland, Verizon, Virgin Media Ireland, Vodafone
Travel, Transport, and Logistics – An Post, Dublin Bus, Enterprise-Rent-a-Car, Irish Rail
Utilities – Irish Water, EirGrid, ESB, Gas Networks Ireland, SSE, Veolia
Of particular interest to RINNO was the small but significant number of signatories involved in the wider construction and buildings management sector including AActavo, Arup, Cairn Homes, Mercury Engineering, PM Group, Bidvest Noonan, and Sodexo. Indeed, Arup's commitment to the wider sustainability agenda was called out in a case study in PriceWaterhouseCoopers 2020 report on the BITCI Low Carbon Pledge.
According to PriceWaterhouseCoopers, 73% of BITCI pledge companies reduced their Scope 2 emissions in 2019. As well as energy audits to identify energy-intensive processes, these companies invested in energy efficient equipment, low energy lighting systems, and building management systems to reduce energy consumption. Increasing usage of renewable energy sources (RES) was another significant feature of BITCI pledge company efforts. This is particularly evident in the increased focus on RES by utility companies, which in many respects is and will continue to transform their businesses into the foreseeable future.
While RINNO is particularly focussed on the residential sector, many of BITCI pledge companies have a profound influence on RINNO stakeholders and in many instances are significant participants in the deep renovation supply chain, directly or indirectly. We face the same challenge – a decarbonised society by 2050. To paraphrase Tomás Sercovich (CEO, BITCI), we need new systems thinking we need to overcome this fundamental challenge.
The launch of the BITCI Low Carbon Pledge can be viewed on YouTube.
RINNO is a Horizon 2020 project that aims to considerably accelerate the rate of deep renovation in the EU by reducing the time, efforts, and costs involved. We strive to deliver a set of efficient, environmentally friendly, multi-functional, and easily applicable construction-related innovations that are geared in favour of a more sustainable future in the Irish economy.
To keep up to date with project updates you can following H2020-RINNO on Twitter, LinkedIn, Facebook. You can also sign up to receive email updates: