[rev_slider slidertitle="Greenstruct" alias="Greenstruct"]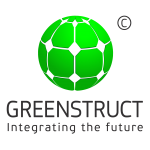 Greenstruct was founded in 2014 in Athens, is a multidisciplinary company focusing on all the new technologies concerning photovoltaic technologies, dynamic glazing technologies as well as software development supporting all the above mentioned activities as well as all the new technologies such as machine learning, computer vision etc.
Greenstruct are acting as consultants in many projects concerning energy harvesting and energy conservation as well as integrators in all these new technologies whether is for buildings facades or buildings interiors.
Greenstruct is involved in several different projects concerning private residences energy renovation as well as private office buildings energy conservation using all the available technologies in the fields of glazing and building integrated photovoltaics.
Greenstruct will be involved in this project by using its extensive knowledge concerning deep energy renovation in small and medium buildings as well as energy conservation using the latest technologies in the glazing industry. They will use thermochromic glass technology as a plug-n –play modular building envelop solution as well as photovoltaic glass technologies in facades.

GEORGE FILIOS
George Filios is a Mechanical engineer and is the founder of Greenstruct. His career started in 2012 when he was an estimator and field engineer for various photovoltaics projects in Greece. In 2013 he was employed by a major aluminium company based in Greece as a project manager and exports employee dealing with multiple projects mostly abroad concerning aluminium facades. Having the previous experience with photovoltaic technologies he realised there is a gap between PV industry and aluminium industry concerning systems that can be applied in the building's skin that can act both as façade elements and energy production modules.