[rev_slider alias="northumberia-1″][/rev_slider]
About

Newcastle University
Newcastle University is a highly-ranked Russell Group institution with a global reputation for academic excellence, research power and graduate employability. 42% of research at Newcastle University is rated as 4* world leading by the Research Excellence Framework (REF 2021) consolidating the University as one of the UK's world-leading broad-based research-intensive universities. Newcastle University is also rated 1st in the UK and 8th in the world for sustainable development in the Times Higher Education Impact Rankings 2022 and is a Global Top 125 university (QS World University Rankings 2023). Newcastle University is a Centre of Research Excellence (NUCore) in Digital and Data working on transforming work practices, business models and human interaction and behaviour across many disciplines including the built and natural environments. The NUCore in Digital and Data spans across most disciplines including Engineering, Computing and Health. Newcastle University is home to the National Innovation Centre for Data (NICD) established with a £30ml grant from the Government and Newcastle University in 2019. The Centre of Energy at Newcastle University leads the £20mI Integrated Transport Gas Electric Research Laboratory (InTEGReL) which is the UK's first multi-vector integrated energy systems research and demonstration facility investigating utility scale infrastructure and testing at scale combined energy (solar photovoltaics, natural gas, hydrogen, combined heat and power heating, heat and power district heating, electric power, electric heating, electric vehicle charging, Hydrogen powered vehicle charging), their interaction and impact on cost, carbon and resilience. Newcastle University is a founding member of the UK Collaboratorium for Research in Infrastructure & Cities (UKCRIC) (£138ml investment from DBIS), lead the 14 UK universities in the UKCRIC network, and hosts the National Urban Observatory with the largest publicly available real-time urban data in the UK making 2000 observations every minute.
Newcastle University will be responsible for the Retrofitting Process Manager development integrating the Process Industrialisation module, the Process Optimisation module, and On-the-job AR Facilitating Environment module into a holistic tool that helps execute, analyse, monitor, and manage the renovation process whilst guiding and training the workforce on-site through the cloud.
They will also develop and deliver an IoT platform to connect in-use performance data with BIM context data to provide actionable advice to property owners and tenants. The tool will take BIM models in the form of IFC and enable users to link sensors and other data such as tenant profile data to spaces within buildings.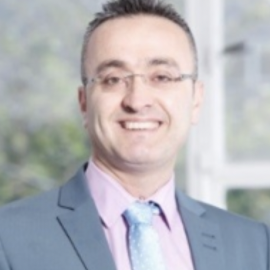 DR MOHAMAD KASSEM
Dr. Mohamad Kassem is a Professor of Digital Construction and Engineering, the Head of Construction Project Management, and the Lead of the Built Environment Digital Futures research group in the Faculty of Energy and Environment at Northumbria University. He is an internationally recognised scholar for his research on understanding the digitalisation of construction projects and the built environment. Specifically from technical, management and policy perspectives and the resulting economic, environmental, and social implications to assets, projects, individuals and organisations. He has published more than 100 articles covering these research areas in international journals and conferences. He was awarded and has successfully developed several research and enterprise projects funded by European, British, and international funding bodies.