RINNO partners Greenstruct explain how two relatively new innovations, photovoltaics and thermochromic glass, will be explored within the four-year RINNO project.
One of the areas that RINNO will be employing to increase the energy efficiency of our pilot sites is so-called GlassTech in construction. Humans have been making glass for thousands of years, whether for tools, jewellery, drinking vessels, spectacles, scientific equipment, and obviously windows. Using glass to bind up nuclear waste, make safer batteries, and fashion biomedical implants has similar prominence. In addition to new uses of glass, we have sought to make it more clear, more opaque, more reflective, stronger, and sometimes, more delicate. As part of RINNO, we will be exploring two relatively new GlassTech construction innovations, building-integrated photovoltaics (BIPV) and thermochromic glass, to enable deep energy renovation and energy conservation in small and medium sized buildings.
What is BIPV?
Photovoltaics (PV) is the conversion of light into electricity using semiconducting materials. BIPVs are photovoltaic materials used in the building envelope such as the roof, skylights, or facades.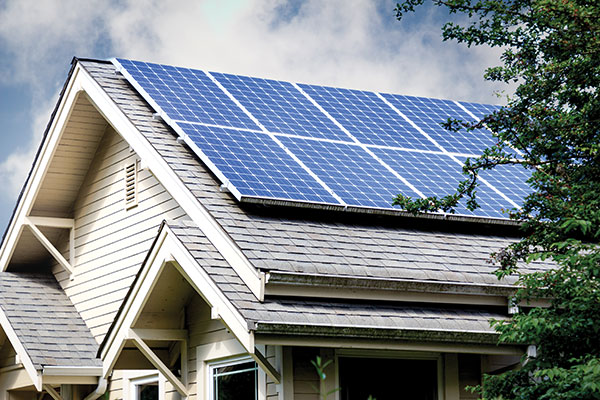 BIPV in domestic use (© Cindy Shebley)
BIPV technology can be integrated into pre-existing and planned architectural structures, turning them into a complete, multifunctional, high-performing, solar-energy power plants. They are installed in the same way as conventional glass with a significant advantage: BIPV is the only building material that can generate generate energy and therefore cost savings throughout its entire life span by converting light into electricity.