RINNO's Antonia Egli joins Advantage Austria's "Creative Approaches to Sustainable Building" event and reports on the latest in GlassTech and wasterwater management for sustainable construction and renovation solutions. The event brought together over 200 architects, construction professionals, developers and experts in sustainable construction and was dedicated to sustainable innovation and technological development in the construction sector – a particularly relevant topic for RINNO.
How can Windows Contribute to Sustainability in Construction?
Both used and new windows can contribute to sustainability and circular economy practices. Andreas Simmer, Managing Director at Internorm UK, delivered a session on 'Windows of the Future' and identified three specific ways that windows can play an important role in contributing to energy efficiency and sustainability in construction:
Efficient Thermal Performance through minimizing solar heat gain and maximizing daylight, thus lowering costs associated with HVAC (heating, ventilating, and air conditioning) loads.
Reducing Noise Pollution through triple glazing, improved cavity depths, increasing glass thickness, and laminating windows.
Soaking up (or shading from) daylight through reducing carbon emissions, improving lighting efficiency and heat regulation and, accordingly, wellbeing.
These approaches are not unfamiliar to the RINNO consortium. Indeed, as part of RINNO Greenstruct will develop plug-n-play modular building envelope solutions based on building-integrated photovoltaics (BIPV) and thermochromic glass to optimise the process of glass cladding and installation at our pilot sites. To measure the impact, we will monitor indoor microclimates with sensors to compare energy consumption results.
More about the benefits of BIPV and thermochromic glass can be read in our previous blog, GlassTech and How Can it Contribute to Energy Efficiency in Construction.
How can Wastewater Contribute to Sustainability?
Currently, almost 50% of the total energy consumed in Europe is used for the generation of heat for either domestic or industrial use. A key area of expertise for the Rabmer Group – which presented heating and cooling innovations at the event – has been capturing energy from exhaust air and wastewater.
24 hours a day and 365 days a year, the sewer regulates itself.
Ulrike Rabmer-Koller, Head of Rabmer Group
Against the backdrop of the UN's Sustainable Development Goals, Rabmer-Koller feels we cannot miss the opportunity to examine the use of unavoidable outputs in domestic environments, whether solar, biomass, geothermal or exhaust, for improving sustainability. Wastewater in particular has its own advantages – "nobody wants it" and its high temperatures make it highly suitable for further application. According to Rabmer-Koller, 10-14% of the energy required by the construction industry can be met by wastewater by either integrating heat exchangers and pre-heating solutions (resulting in up to 60% of heat being regained to pre-heat water or heat buildings), or transferring wastewater heat from the sewer.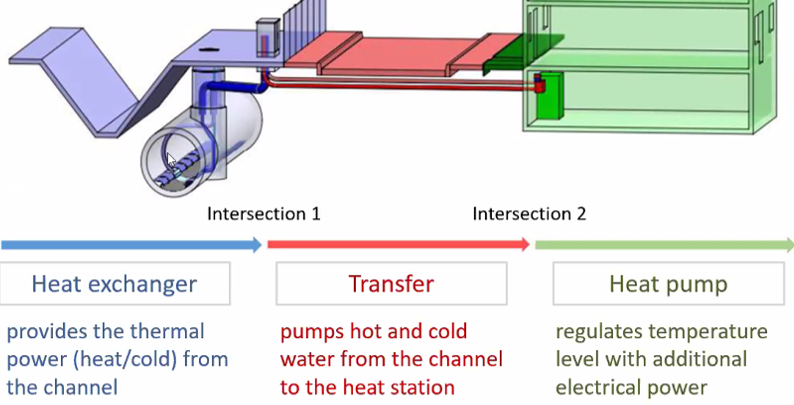 Creating Sewer Energy – Rabmer Group (© Rabmer)
The Need to Raise Awareness About EU Environmental Technologies
These two innovations point to a significant issue in the context of environmental technologies and innovations. The solutions that companies like Internorm and the Rabmer Group have developed are relatively mature, but remain unknown to many construction and renovation stakeholders within the EU. Increasing stakeholder knowledge and awareness of sustainable alternatives is essential for hitting EU and SDG targets for sustainability and, indeed, deep renovation.
RINNO is a Horizon 2020 project that aims to considerably accelerate the rate of deep renovation in the EU by reducing the time, effort, and costs involved in deep renovation projects. In a collaborative effort of 17 partners from industry and academia, RINNO will deliver an open renovation platform for the integrated design and delivery of deep renovation projects.