Dublin City University (DCU), ranked in the top '100 under 50' on the Times Higher Education and in the 'Top 50 under 50' on the QS World University Rankings, has been awarded the 'Sustainable Water Achievement Award' in the Green Awards 2021. How did their bid to drastically reduce water consumption across five campuses in four years unfold?
 Key Figures
of water saved over three consecutive years.
in annual savings through underground leak repairs alone.
2021 Green Award for Sustainable Water Achievements.
DCU began its water conservation programme in 2016 through a specific in-house estates utilities management team and the certification of both water and energy management to ISO 50001. In doing so, Dublin City University aimed to address a critical, global challenge and play its role in helping to meet the UN Sustainable Development Goals.
Sustainability reflects not only our commitment to play our part as a responsible organisation, but also our realisation of the messages we can convey as an exemplar organisation to both our students and society around us.

Professor Brian MacCraith, President, Dublin City University (2017)
The key features of the newly developed water management system culminated in a utilities management plan, which combined the crucial operational elements needed to manage water and energy on a daily basis while ensuring a strategic focus on sustainable consumption, and reducing costs and CO2 emissions in the long term.
A four-stage approach aligned water conservation planning across five campuses, with renovation work beginning with campus-level water mapping, university-wide water audits, and initial improvements in pipework and sanitation. These included underground leak repairs, digitally connected sub-metering to better measure water use, trials of energy efficient fittings at campus residences, and upgraded sanitary-ware and control procedures.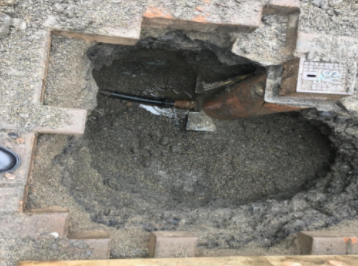 One of three underground leaks repaired resulting in annual savings of over €30,000 (Source DCU)
A strategic framework was supported by the implementation and full independent certification of the DCU water management system, the formalisation and structuring of all utilities operations, and three conservation teams based within the estates office, the university, and senior management.
To better understand where water was consumed, visualise savings, and engage the community, DCU also developed a water balance indicator in the form of a metaphorical wall around a local Gaelic Football pitch. If, in 2016, the university had piped all waste water into this area, they would have required a 20 metre high wall to contain the overall volume of water wasted. In 2018, the wall height was reduced to 17.6 metres, and in 2019, the height was reduced again to just over 15.3 metres. The 2030 target is a wall only 10 metres high.
Further educational efforts included the publication of 'water editions' in the university's Estates Office Energy News newsletter, focus group research, ideation activities with university staff and students, student sustainability competitions, internal training, and poster campaigns.
Results
The Green Awards
The Green Awards were launched in 2008 and recognise the contribution and commitment of organisations towards growing a greener future in Irish business today. Eight organisations – including ABP Foods, Munster Technological University and the IceWater Group – were shortlisted for the 2021 Green Business & Sustainability Award. DCU, led by the DCU Estates Team, was the overall winner of the award sponsored by Irish Water.
Next Steps
DCU is positioning itself to further optimise water management performance over the coming years. Due to COVID-19 lockdown measures, university water consumption decreased by nearly 50% in 2020 – the new comparison baseline going forward will therefore be the figures achieved in 2019. The DCU team have set aggressive targets seeking to double the amount of water saved from 50,000m3 in 2019 to 100,000m3 by 2030. Future action plans include ongoing water auditing and sub-metering, retrofitting high water users with low consumption fittings, a community wide awareness and engagement programme, fitting controls for all flushing systems, and linking all meters with a smart management dashboard.
RINNO is a Horizon 2020 project that aims to considerably accelerate the rate of deep renovation in the EU by reducing the time, effort, and costs involved in deep renovation projects. In a collaborative effort of 17 partners from industry and academia, RINNO will deliver an open renovation platform for the integrated design and delivery of deep renovation projects.