By Antonia Egli, Luiz Evelin, and Prof Theo Lynn (Dublin City University)
Welcome to the 'Disrupting Buildings' blog series! Each week starting today, the RINNO team at Dublin City University will summarise one chapter of the recently published open access book 'Disrupting Buildings: Digitalisation and the Transformation of Deep Renovation' for a step-by-step introduction to the latest deep renovation technologies, drivers, and barriers shaping the construction and renovation industries. Here, we start off with Chapter 1, 'Deep Renovation: Definitions, Drivers and Barriers.' For timely updates on this blog series, sign up to the RINNO newsletter or follow us on social media here.
The recent 2022 Intergovernmental Panel on Climate Change (IPCC) assessment has made it abundantly clear that climate-resilient development is becoming increasingly challenging due to current warming levels (IPCC, 2022). To restrict global warming to around 2°C (3.6°F), the IPCC emphasises the need for global greenhouse gas (GHG) emissions to peak before 2025 and decrease by 25% by 2030 (IPCC, 2022). This represents a formidable challenge, as acknowledged by UN Secretary-General António Guterres (UN, 2019), who noted that:
"The climate emergency is a race we are losing, but it is a race we can win."
The European Union has taken steps to combat climate change and align with the goals outlined in the European Green Deal. The EU has elevated its ambitions for reducing GHG emissions by 2030, targeting at least a 55% reduction below 1990 levels. Additionally, the EU aims to increase the share of renewable energy by 32% and improve energy efficiency by 32.5%.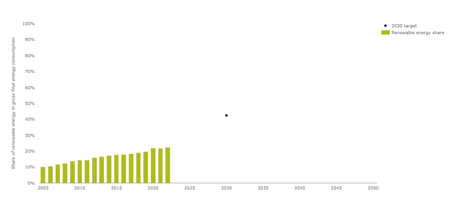 Progress towards renewable energy source targets for EU-27 (source: European Environment Agency)
How can Building Renovation Support Sustainable Futures?
A pivotal component of the EU's efforts in reducing GHG levels involves renovating existing, often residential, buildings. Buildings currently account for 40% of all energy consumption and 36% of GHG emissions in the EU (European Commission, 2020a). A staggering 75% of the EU's residential building stock is characterised by poor energy performance, and the majority of these buildings will still be in use by 2050 (European Commission, 2021a). To meet its climate goals, the EU is committed to achieving a decarbonised building stock by 2050, making deep renovation a key strategy (European Commission, 2021a).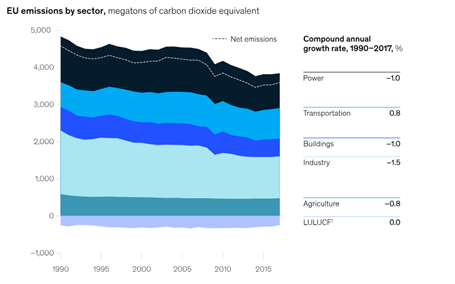 Five sectors emit the bulk of the European Union's greenhouse gases (source: McKinsey)
Deep renovation, a concept often referenced in the context of the EU's climate goals, aims to maximise energy efficiency improvements in existing buildings. However, the term still lacks a universally agreed-upon definition and can encompass both broad and narrow definitions. Broad deep renovation strategies involve integrating multiple renovation measures across the building's entire life cycle, while narrow deep renovation focuses on reducing energy consumption to a significant extent.
What are the Rationales and Benefits of Deep Renovation?
Deep renovation efforts encompass a wide array of motivations beyond environmental sustainability. Stakeholders involved in deep renovation are driven by economic, energy security, and opportunistic rationales. Deep renovation initiatives offer numerous benefits:
Boosting building quality
Increasing area net-worth
Improving energy security
Reducing energy poverty
Generating employment opportunities
Reducing reliance on international energy imports
Enhancing health and accessibility, particularly for vulnerable populations
Contributing to improved consumer service.
Beyond these benefits, deep renovation aligns with sustainability goals. Deep energy retrofits create resilient and green living spaces that deliver high energy performance while reducing waste and pollution. Such renovations enhance the quality of life for building occupants, lead to increased revenues, and lower technological and operational costs. Importantly, deep renovation projects can influence public attitudes toward climate change mitigation, encouraging the adoption of innovative ClimateTech and CleanTech measures in the traditionally conservative construction sector.
What are the Barriers to Deep Renovation?
Achieving the ambitious goals of deep renovation is not without its challenges – obstacles encompass human, organisational, technological, and environmental factors:
Human Barriers: These barriers concern social norms, lack of awareness, and the hesitation to adopt new technologies. Demographic factors such as age, education, and household composition also influence the adoption of energy-efficient technologies.

Technological Barriers: Integrating technologies into the renovation process is complex. The adoption of energy-saving technologies is influenced by the availability, ease of use, and compatibility of these technologies. Additionally, interoperability issues among various systems pose challenges for deep renovation projects.

Organisational Barriers: The size and structure of organisations, allocation of resources, and the support of top management play a crucial role in the success of deep renovation projects. Inadequate training of professionals and construction workers within the realm of energy efficiency is a significant barrier to project success.

External Environment Barriers: Regulations, policies, and political standards significantly impact deep renovation projects. These external factors can be complex, unclear, and time-consuming, thus hindering the renovation process.
Deep renovation represents a critical strategy in combating climate change and improving the sustainability of our built environment. It has the potential to transform the construction and renovation industry by integrating multiple energy-saving measures, offering relief for vulnerable populations, and contributing to climate-friendly practices. Deep renovation projects also enhance the long-term durability of buildings and improve quality of life for occupants.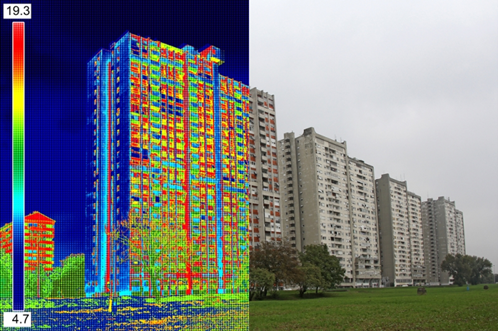 An example of a residential building's energy use (source: Qual Energia)
To overcome the barriers to deep renovation, it is essential to address human, technological, organisational, and external environment challenges. Digital innovations, such as embedded sensors or other creative approaches to sustainable building, have the potential to play a pivotal role in addressing these barriers and accelerating the adoption of deep renovation measures.
To learn more about deep renovation technologies, you can download the open access book 'Disrupting Buildings: Digitalisation and the Transformation of Deep Renovation' for free. In the book, we explore various digital innovations disrupting and transforming the construction sector. Chapter 2, for instance, focuses on embedded sensors and their role in digitising deep renovation. Sensors are integral in measuring and optimising energy performance, making smart buildings and homes a reality. However, challenges related to data volume, access, and use must be addressed to harness the full potential of sensor technology in deep renovation projects. To download 'Disrupting Buildings' in full, click here, or stay tuned for a summary of Chapter 2 next week.
To download the full open access book, 'Disrupting Buildings,' click here.