In today's digital age, data security and trust are paramount. Blockchain technology has emerged as a revolutionary concept with potential extending far beyond financial applications; its decentralised and transparent nature is already beginning to transform building renovation and construction projects. Read on to better understand the basics of Blockchain technology and how RINNO is making use of it to further deep renovation in the EU building stock.
What is Blockchain and how does Blockchain work?
At its core, Blockchain is a distributed ledger. Ledgers are record-keeping systems that maintain histories of transactions or digital interactions in a secure, transparent, and tamper-proof way. Unlike traditional centralised systems in which a single authority controls the ledger, Blockchain operates as a decentralised, or distributed, network. This network comprises multiple participants, known as nodes, who all possess an identical copy of the ledger.
To understand how Blockchain works, imagine a digital spreadsheet that contains transactional data. Instead of having only a single copy of this spreadsheet, Blockchain distributes identical copies to every node in the network. Whenever a new transaction is made, it gets grouped into a "block" with other transactions. Each block is then added to an existing "chain" of blocks through a cryptographic hash, which verifies the validity of the data and forms a chronological record of transactions – hence the name "Blockchain."
What are the advantages of Blockchain?
One of the fundamental features of a Blockchain ledger is its immutability. Once a block is added to the chain, it becomes extremely difficult to alter or tamper. Because of this, transactions made via Blockchain can be viewed as validated and relatively non-refutable. This is achieved through cryptographic hashing and consensus mechanisms employed by the network: any attempt to modify the data within a block would result in a change in its hash value, which would be immediately detected by other nodes in the network.
In distributing ledgers, Blockchain technology also eliminates the need for a central authority to control and validate transactions. Because they are not subject to manipulation by a single entity, decentralised ledgers enhance security, visibility, traceability, transparency, confidentiality, and trust within the network. Equally, costs are reduced by eliminating the need for vendors and third-party providers.
What is Hyperledger Fabric?
Hyperledger Fabric is an open-source enterprise-grade Blockchain platform developed under the umbrella of the Linux Foundation's Hyperledger project. It is designed to facilitate the development and deployment of decentralised applications (dApps) and smart contracts in enterprise environments. Unlike public blockchains like Bitcoin or Ethereum, Hyperledger Fabric is a permissioned Blockchain framework, meaning that participants are known and have predefined roles and permissions within the network. Such networks are therefore limited in their decentralisation, but also bring the following benefits:
Technical advantages of permissioned Blockchain frameworks:

Incremental decentralisation
Stronger privacy
Customizable
Faster in use
More scalable

Operational advantages of permissioned Blockchain frameworks:

Controlled transparency
Not anonymous
Privacy based on governance decisions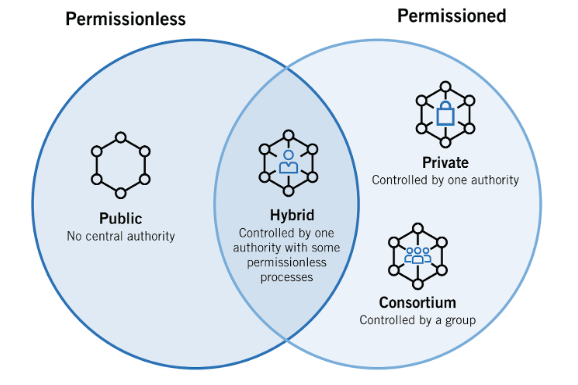 Venn diagram comparing permissionless and permissioned blockchains. Credits: Foley & Lardner LLP
How is RINNO applying Blockchain technology?
The RINNO Renovation Workflow & Transactions Manager is a component of the RINNO Suite that acts as a workflow for the renovation value chain. It organises data exchange processes among various renovation components, thus providing verification libraries and transparency in quality assurance, certifications, transaction contracts, and overall data provenance. This supports project management and communication across the renovation project lifecycle and accelerates payment processes between stakeholders.
RINNO's Transaction Manager offers next generation, Blockchain-enabled applications to automatically translate natural language (i.e., conventional) contracts between different actors in renovation projects (e.g., renovation subcontractors) into smart contracts. These are based on Ricardian contracts, a type of digital contract that uses advanced techniques like cryptography, digital signatures, and storage on the Blockchain to make sure that agreements between parties are secure and enforceable. The terms of purchase agreements made in the form of Ricardian contracts are legally binding because they are recorded in an immutable ledger and can be directly retrieved from the Blockchain.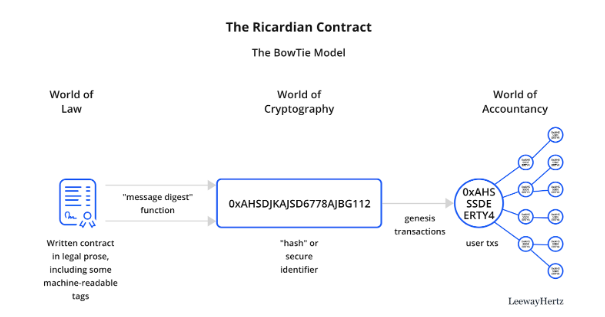 Process of a Ricardian Contract, Credit: Leeway Hertz
As a result, automated and secure transaction services between the different actors involved in a renovation project will be offered and assured. To facilitate and track the renovation progress evolution in detail, any type of information received is post-processed and transformed into quantifiable representative KPIs. This ensures that any decision taken or evaluation made within the renovation process is based on consolidated measurable numbers.
What specific advantages does Blockchain bring to the RINNO project?
The use of Blockchain technologies is crucial for reducing time wastage in the renovation lifecycle as it eliminates the need for extended paperwork, bilateral communication, and complex progress tracking methods. Blockchain also provides a flexible framework for negotiations and agreements, and thus supports trust among partners.
More specifically, the use of blockchain allows RINNO to provide:
Quick and secure product or service purchases
Direct and reliable renovation status tracking
Ease of information flow and coordination
Lastly, Blockchain allows for different terms of agreement for different services and products, which makes it suitable for application throughout an entire renovation lifecycle. Services and information that involve multiple stakeholders are seamlessly recorded on the Blockchain and provide reliable information regarding the identity of the actors and the time and order of actions. Such flexibility allows for the rapid and secure finalisation of purchases and greatly enhances the speed and ease of settling disputes between different parties and organisations.
RINNO is a Horizon 2020 project that aims to considerably accelerate the rate of deep renovation in the EU by reducing the time, efforts, and costs involved. We strive to deliver a set of efficient, environmentally friendly, multi-functional, and easily applicable construction-related innovations that are geared in favour of a more sustainable future in the Irish economy.